KEYDIY KD-X2 Remote Maker Unlocker and Generator-Transponder Cloning Device
The KDX2, is a multi-function auto key programmer which is very popular among locksmiths thanks to its small body and powerful functions.The KDX2 is more than just a cloner, it is also capable of copying transponders, read and write from / to transponders, execute a frequency test and generate type transponders, all in just a few simple steps.
The KDX2 also benefits from a built-in snoop device which notifies you when you have gathered the necessary snoop data on ID46 and ID48.
This key cloner is as small as a phone, meaning that you can simply put it in your pocket and take it with you. And in order to avoid the problem of power supply the KDX2, has been designed with a 1600mAh lithium battery, allowing you to decode hundreds of times when fully charged.
KEYDIY KD-X2 Introduction:
1. Power supply: 2600mAh lithium battery; Charge method: USB 5V/1A
2. With 0.91inch OLED display screen.
3. Bluetooth BLE4.0 inside, work with mobile KD app by bluetooth connection
4. Can work with PC software by USB-B connection, and work with IOS Android phone or tablet by OTG connection.
5. With PS-2 interface for connecting remotes to generate.
6. Three functional shortcut buttons: chip identification, remote identification and frequency detection.
7. Free Activation of 96 Bits 48 Transponder Copy (No Token Required)
KEYDIY KD-X2 Features:
1.No Tokens required for use
2.Continue free updates
3.Compatible with most manufactures chips on the market,such as Handy Baby,JMD,CN,VVDI etc.
4.Copies 96 bit (only) ID48 chips (Not the full range as per Keyoline Mini/884 are able to)
5.Works with a PC software connected via USB for Online only fucntions
6.Eliminates the need to purchase many other devices
7.Transponder Chip identification/to help choose the correct chip to program
8.Remote identification to help take the guess work out of the choice to program
9.Frequency detection,can also be used to check remote buttons are functioning correctly
10.Ignition coil detection,check if the car itself is sending out a signal so to fault test
11.Plus many more additions and updates coming soon
KEYDIY KD-X2 Basic Functions:
1) Wired Generation.
2) Wireless Generation.
3) Mobile Phone Simulation.
4) Garage Door Generation.
5) Proximity Key Unlock.
6) Frequency Detection.
7) Infrared Detection.
8) Access Card Copy.
9) Fixed Code Remote Copy
10) Online HCS Remote Copy.
11) Online Chip Copy ( 96 bit 48chip, 46chip, 4Dchip, Toyota chip etc. )
12) Chip Generation.
13) Chip Editing.
14) Chip Simulation.
15) lgnition Coil detection.
16) Remote Data Backup.
17) Additional Functions Will be Available in Succession.
KEYDIY KD-X2 new version 5.0.0 with more new options:
1. Upgrade remote data service;
2. Improve the stability of remote upgraded;
3. Improve downloading speed and stability of the third party remote;
4. Generate the remote can get the kd-coins;
5. Use KD NB remotes to copy chips can get KD-coins;
6. Support to generate garage door remote.
Kindly Notice:
After verification can calculate the ID 48 96bit.
Please use kd-coins to have a try. One Re time calculate need 150 kd-coins Generate one KD remote can get 20 coins. Copy one KD 46 chips by multifunctional function remote can get 10 more coins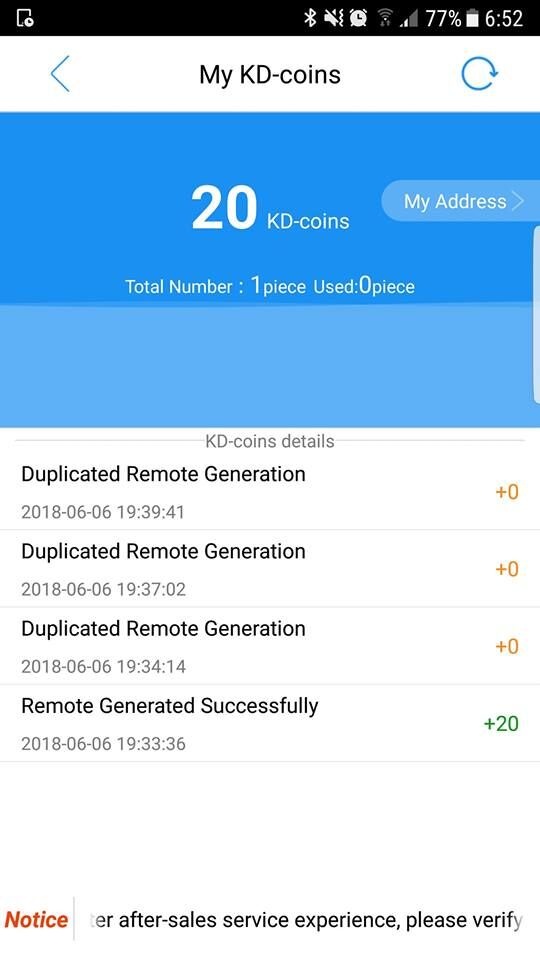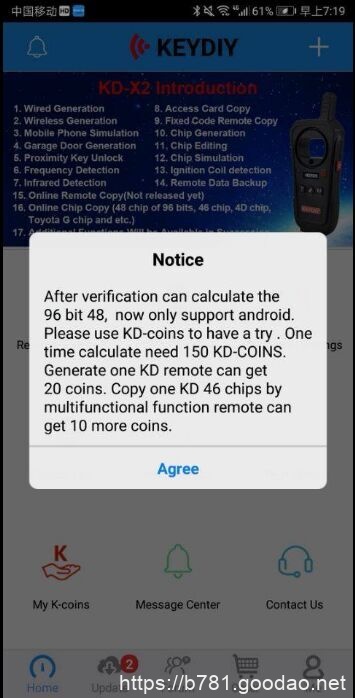 How to use keydiy kd-x2 ID48 clone for free?
keydiy kd-x2 ID48 clone is released now, its APP is verified working fine on both Android and IOS, and to do ID48 clone for free you need to have enough tokens or kd-coins first.
How to get keydiy kd-x2 ID48 clone authorization for free?
1. It will be charging 150 kd-coins for each key or $10usd token for each, you earn free k coins for every remote you generate with kdx2, you will get 20 k coins for each remote you generate with it , so every 8 remotes you generate you will get 1 free id48 clone , you cannot transfer tokens from other kd units to kdx2 as different tokens .
2. In mobile app you need make verification with your mobile phone number (IOS or Android is ok). once verified and registered within the app you will receive 50 kd-coins.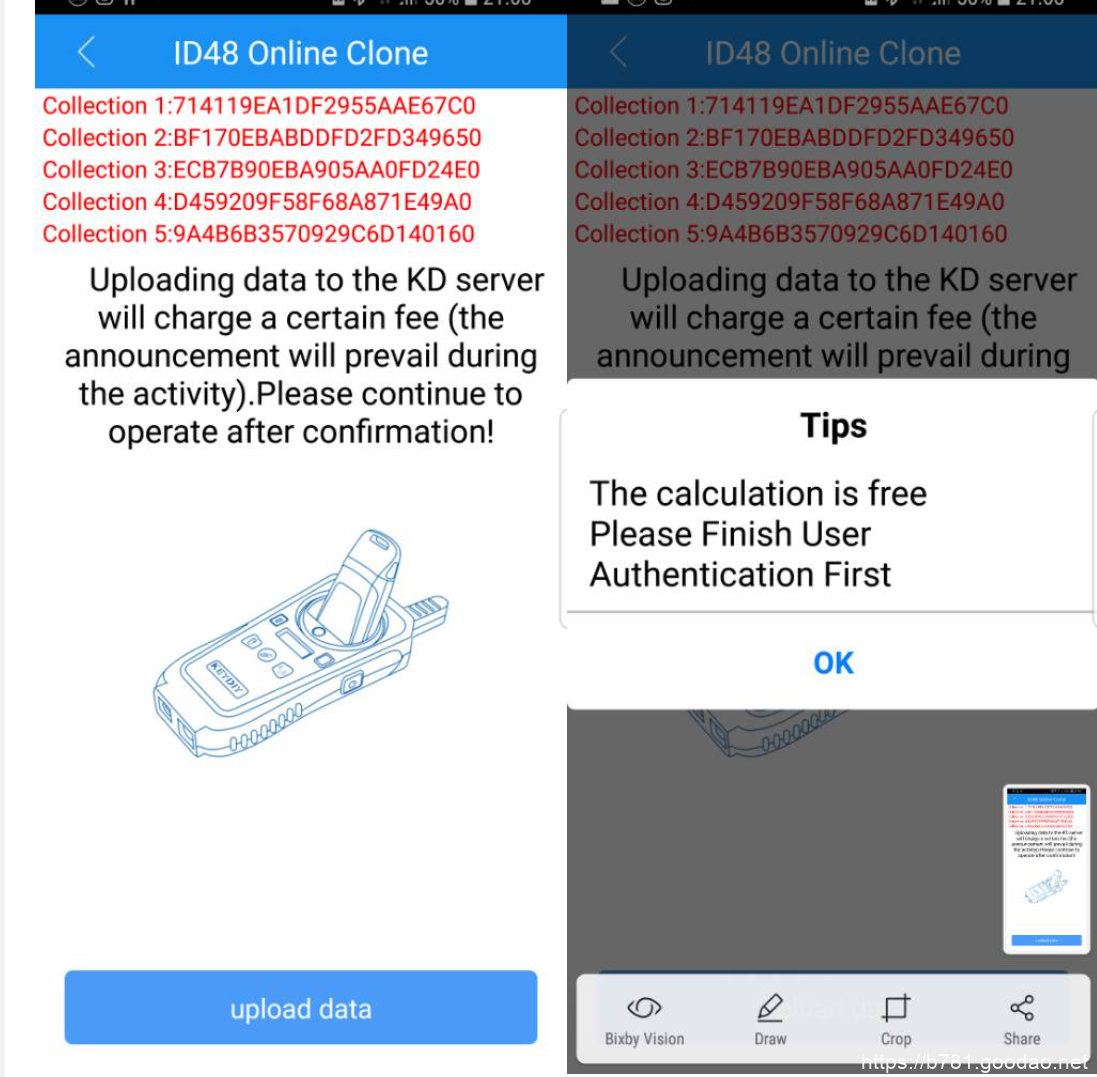 How to make verification?
Step 1: Tap "Me".
Step 2: Tap "Certification".
Step 3: Verify both sides of your ID card.
Step 4: You can see you user authorization succeed 50 KD-coins.
Step 5: You can tap "My KD-coins" to check how many kcoins you have.

Where to purchase k coins, can it be done through the app?
The answer is there's no details of where and how to buy these yet, but they will be able to be bought, you can earn free K coins as follows:
1) every time you generate a remote using kdx2 you will receive 20 free k coins
2) every time you clone to a 46chip remote you receive 10 extra k coins
If in the store we are two operators how to synchronize kd-x2? to accumulate points?
Answer: As long as you both log in to same account on phone app and use the same kdx2 then points will go to same account, but if using another log in they will go to different accounts, also remotes generated by kd900, ks900+ and kd200 cannot get points
How to Use KEYDIY KD-X2 to Identify Chip Type?
Put the chip you want to identify into the chip slot,then press the "Chip Identification" button.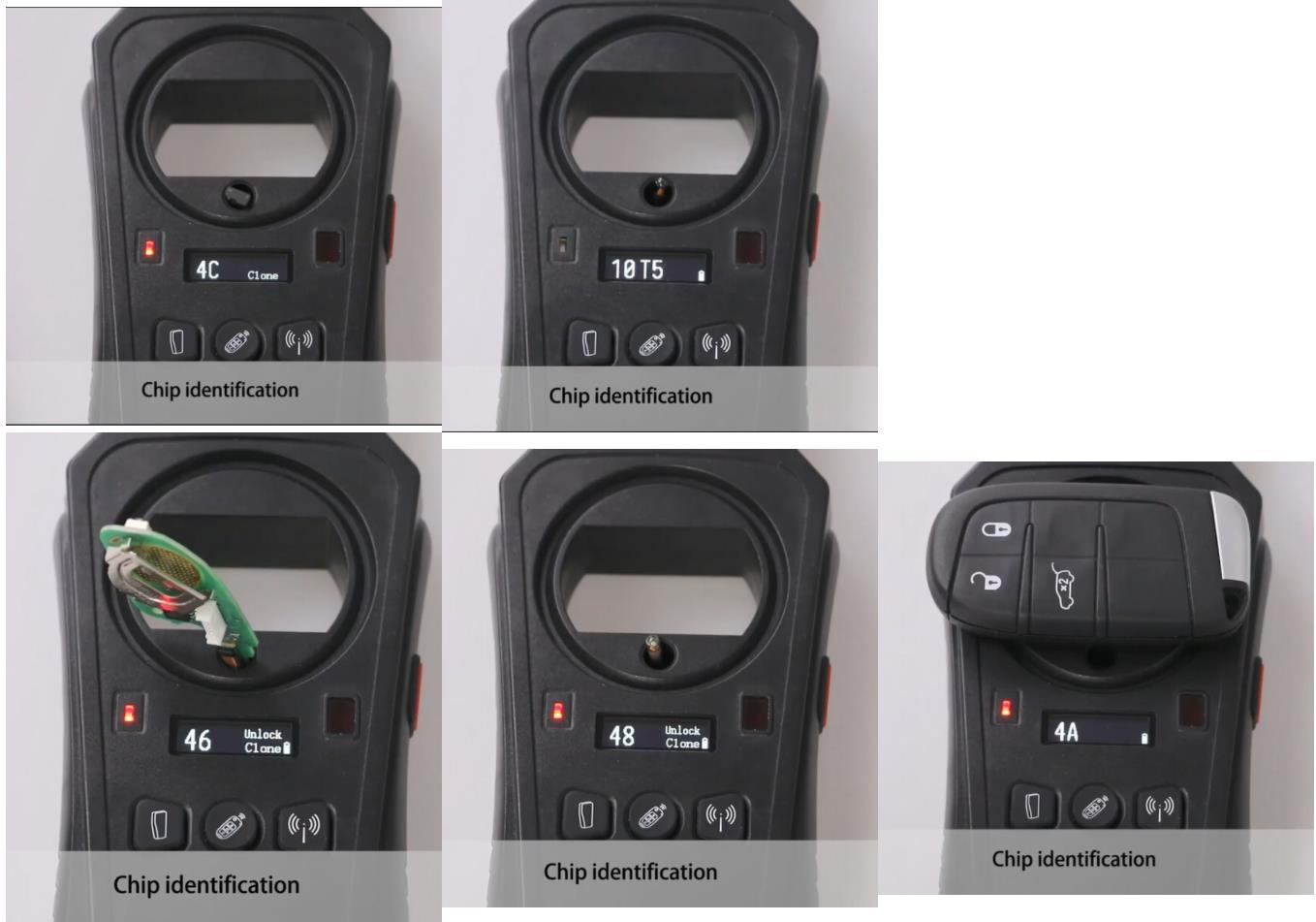 Chip Function on Bluetooth App: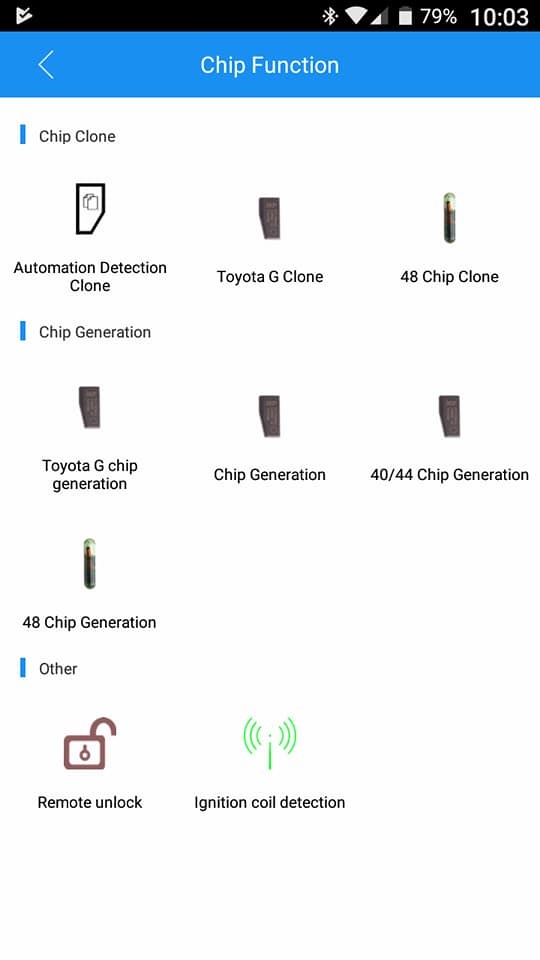 KEYDIY KD-X2 Support Car List:
For Audi for Baojun for Bcahy for Benjin, Auto for Benz for Besturn for BMW for BYD for Cadillac for Chang an for Changfeng Motors for Changhe for Chevrolet for Chrysler for Citroen for Daihatsu for Dongfeng for Faw for Fiat for Ford for Garage for Geely for GMC for Great Wall Automobile for HaiMa for Hawtai Motor for Honda for Hyundai for Isuzu Iveco for Jaguar for Jianghua for Kia for Land Rover for Lincoln for Mahindra for Mazda for MG for Mitsubishi for Nissan for Opel for Peugeot Citroen DS for Porsche for Proton for Renault for Saipa for Samand for Seat for Skoda for Ssangyong for Subaru for TATA for Toyota for Lexus for Volvo for VW for Zhongxing
The current coverage of the KDX2 includes:
Transponder Identification
The KDX2 can read and identify the following transponder types:
• Fixed code ID 11, 12, 13, 33 and 4C
• Philips Crypto 40, 41, 42, 44, 45, 46, 47, 49 and 4A
• Megamos 48, 48 Canbus
• Texas Crypto 60, 61, 62, 63, 64, 65, 66, 67, 68, 69, 6A, 6B, 70, 71, 72, 82, 83, 8C and 8E
• Most smart keys
Transponder Cloning
The KDX2 offers an extensive cloning range with the built-in snoop for ID46 and ID48 cloning.
Currently, the KDX2 can clone keys for:
• 4D/ 4C / 46 / 11 / 12 / 13 / 33 transponder clone
• ID48 (96 Bit) Only
• Fixed code (T5) – ID 11, 12, 13 & 33 using a carbon T5 chip
• Texas TX 4C
• Texas Crypto TX/CR 4D
• Philips Crypto PH/CR 46
•For Toyota 80 Bit
• Megamos Crypto
Transponder Production
The KDX2 also has a good range of transponder production (image generator functions) included.
The transponder production coverage includes:
• ID4D / 60 / for Epica60 / 61 / 62 / 63 / 64 / 65 / 66 / 67 / 68 / 69 / 6A / 71 / 72G 4C transponder
• ID48 type: for Seat TP22 / for VAG TP23 / for Skoda TP24 / for Audi TP25 / for Seat TA22 / for VAG TA23 / for Skoda
• TA24 / for Audi TA25 / for Fiat ID48 / for Jetta ID48
• ID46 type: for Great Wall (STEC) / for Zotye (STEC) / for Ha/ma (STEC) / for Maple (STEC) / for Geely (SETC) /
• Cherry (STEC) / Zhonghua230 / Zhonghua530 / for VW46 (2007-2008) / for X-Trail (2008-2009)
• for Renault (Maste.II) / for Renault (Trafic II) / for Opel (Vivaro) / for Opel (Movano) / for Renault (Espace IV)
• for Renault (Laguna II) / for Renault (Velsatis) / for Renault (Twingo) / for Citroen / for Fiat / for Lancia / for Peugeot (206/307)
Transponder Production coverage continued…
• Mitsubishi / Cruze / Siemens / Changhe / Suzuki / GM / Beidouxing
• T5 type: 11 / 12 / 13 / 33
• ID47 type: for Honda
• Id63 for ford 80 bit
Signal Test
The KDX2 can check a remote's frequency as well as identify type (i.e. ask or FSK), including:
• Frequency Test (remote, ASK/FSK)
• ECU signal test (check if the coil works or not)
Simulator
The KDX2 allows you to simulate the key before you clone it, to ensure working correctly prior to cloning a chip on:
• ID46
• ID4D
Transponder Edit
The KDX2 allows you to read, write and edit chip data on 4D / 46 / 48 / 47 / 4D DST/8A etc
ID48 Activation is FREE Ready to use on your New KD-X2 Machine
To use the 'Copy' function, this is FREE* Or Packs can be Ordered**
FREE* (150 Key DIY Coins are needed for use to clone 1 x ID48 chip)
To use the 'Copy' ID48 (96bit) function for FREE you will need to use KD COINS, which are obtained every time you use the machine to generate.
• The more you use the machine – the more FREE KD Coins you received to Copy ID48 (96bit)
• Every 1st time you Generate a " B " Remote you receive Free 20 KD Coins
• Every 1st time you Generate a " NB " Remote you receive Free 10 KD Coins
o Example 1, for every 7 x "NB" plus 1 x "B" 1st time generation you receive 150 FREE Coins equal to 1 x FREE to Copy ID48 (96bit)
o Example 2, for every 8 x "NB" 1st time generation you receive 160 FREE Coins equal to 1 x FREE to Copy ID48 (96bit) with 10 spare KD Coins
o Example 3, for every 15 x "B" 1st time generation you receive 150 FREE Coins equal to 1 x FREE to Copy ID48 (96bit)
Packs can be Ordered** (150 Key DIY Coins are needed for use to clone 1 x ID48 chip)
If you need to use this function in cases where you cannot wait to generate remotes to receive your FREE to use Copy ID48 (96bit) function, you can look to purchase KD Coins.
• Purchase x1 use Copy ID48 (96bit) for £9.99 each +VAT (equal to 150 Key DIY Coins)
• For more info on KDX2 Coins, please contact the office on 01902 366 448.
KEYDIY KD-X2 Remote Maker Package List:
1pc x KEYDIY KD-X2 Main Unit
1pc x PC Data Cable
1pc x 3 Commonly Remotes
1pc x Remote Data Cable
1pc x Spare Remote Data Cable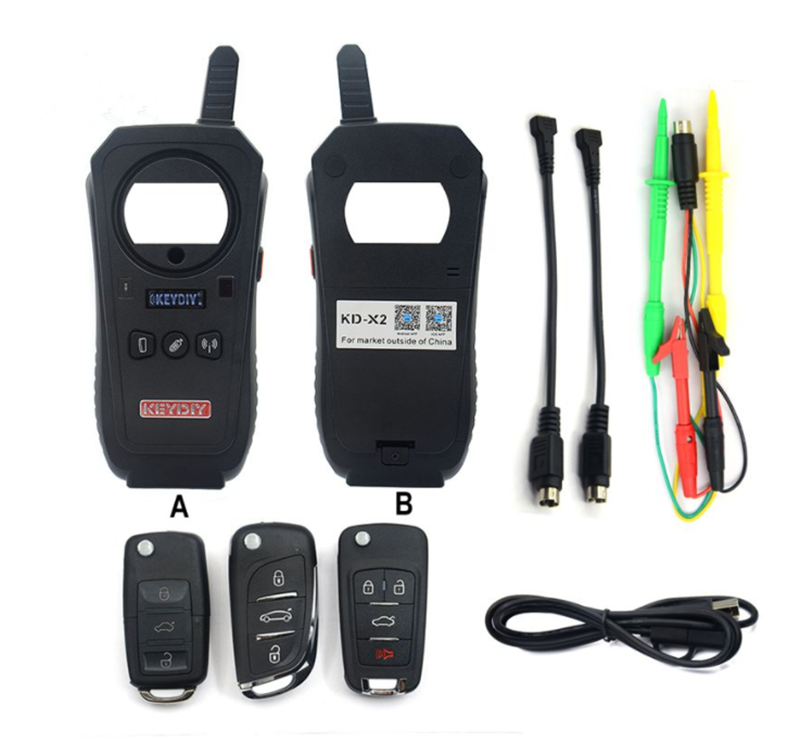 ---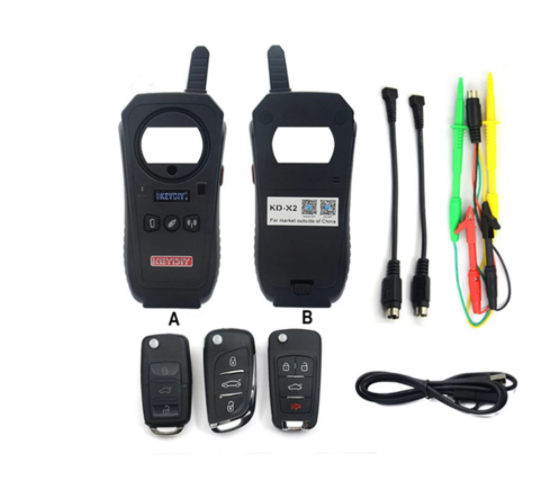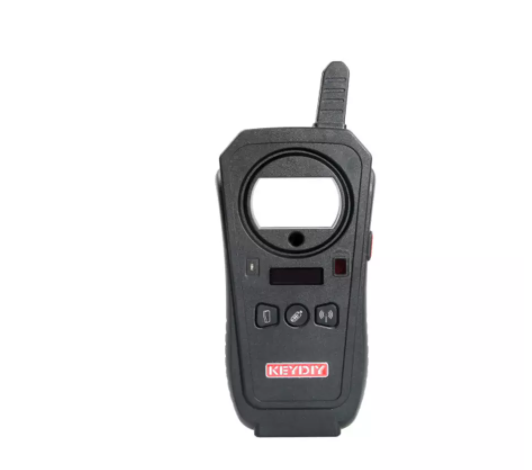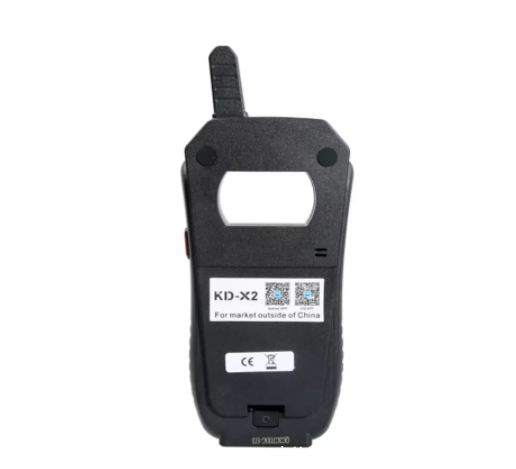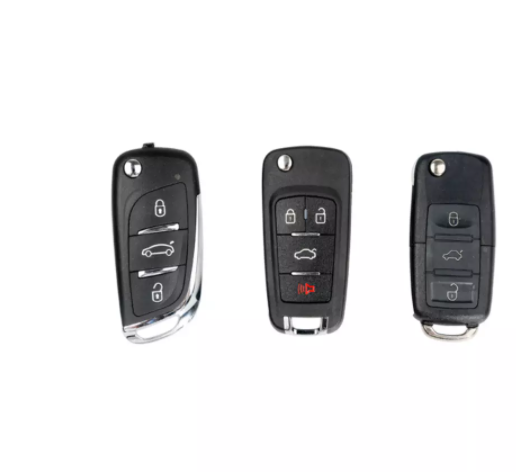 The following is the process you should take to complete your order through bank to bank transfer:
1. Please go to your bank (through online banking, ATM or going into a branch) and complete the transfer of money. Make sure that the amount you transfer is the exact total of your order. Payment details below:
- If your bank is located in Austria, Germany, Spain, France, United Kingdom, Italy, Netherlands, Belgium, Finland, Greece or Luxemburg you will pay to our WorldPay bank. You will see the bank details once you have placed the order.
PLEASE NOTE: If you are paying to our WorldPay bank you MUST include the Unique Payment Reference Number (you will receive this directly after paying the order) in the description section when completing payment to help us identify your order. Failure to do this will result in an unsuccessful transaction.
- If your bank is located in a country not listed above you will pay to our HSBC account. The details are below:
Bank Account:
Bank Code:
Beneficiary:
Bank Name:
Bank Address:
SWIFT Code:
PLEASE NOTE: If you are paying in this way you MUST write your Yourname order number in the description section when paying so we can easily recognize your payment. Failure to do this will result in a delayed or failed transaction.
2. When this is done, log in to your Yourname 'My Account' and complete the following:
Click 'Order list'
Click 'Pay'
Click 'Complete Payment' and fill in the related information for verification (This is an important step. If the information you have filled in does not match your bank details the payment can not be completed.)
Click 'Submit' to finish the procedure.
3. You will receive a payment confirmation email from us after your order's payment has gone through successfully. If you do not receive this email, please contact us here: http://www.Yourname.com/help/
Please note that Yourname will begin to handle your items after payment has been cleared.